Quality and Certification
An important objective of our team is to improve the quality of our services to more closely meet the needs of our partners, integrating both security and protection of the environment. Our certifications endorse our commitment.
Our commitment to improvement
Our main objective is to continually improve our prevention and protection techniques for personnel, property, and the environment, ensuring the highest quality services whilst meeting the needs of our customers.
The SOBEGI teams' priority is health and safety, activity, environmental protection, customer satisfaction and communication with all concerned.
Management is committed to consistent improvement through our quality, environmental and security policies. All our employees know and apply these principles in all industrial and commercial activities. These policies are clearly defined as an important overall strategy.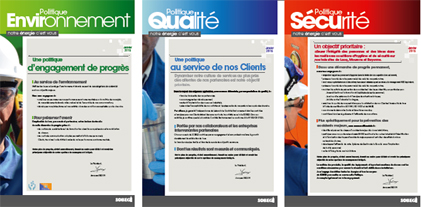 Our qualifications and customer feedback attest to our determination to do our best. We work towards concrete objectives. Results are measured continuously by internal and external audits.
Our progress plan provides a framework for the integrated management system, and is reviewed annually.
---
Recognition
ISO 14001
ISO 14001 is the only international standard that requires an environmental management system.
---
ISO 9001
ISO 9001 relates to the quality management system and requires an environmental management system.
---
MASE
MASE certification is a management system designed constantly improve companies' Safety, Health, and Environmental performances. It is an industrial system for companies that wish to: improve security (using a management system adapted to the company's), improve organisation, communication, employee intervention conditions, and to use a common language for the collective.
---
Accréditation : COFRAC
Accreditation COFRAC aims, after evaluation, to attest that the Control Laboratory & Environment is technically capable of performing tests, analysis or calibrations and to conduct inspections or certification activities within its competency.